WordScore™ Fun for kids, teens, adults, and seniors.
A strategy game where letters are selected from the top line of a tiled board to form words. The objective is to clear the entire board and achieve the highest possible score.
Letters are assigned point values based on their frequency in the target language. These point values are represented by the background colors on the letter tiles with a general rule that the "cool" tiles (blue/green) are worth less than the "hot" ones (yellow/orange/red/).
Submit any length word for dictionary validation and scoring. The sum of the letters is multiplied by the length of the word to calculate the total WordScore.
Compete with your friends for the best score, fastest time, and largest vocabulary.


WordScore was a FINALIST in the 2007 MOTDEV Game Developer Challenge and runs on most Java-enabled cell phones. You can download it from Handango, CrackBerry and the BlackBerry AppWorld.
---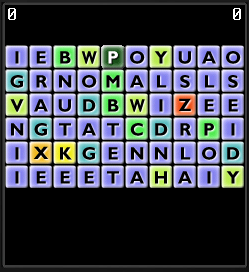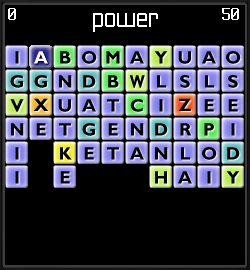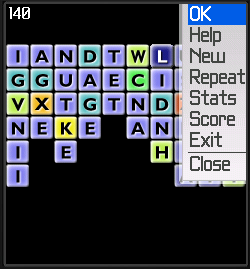 ---
(C) 2007, 2009 duzine.com All rights reserved. wordscore, duzine, duzine.com, and the wordscore logo are trademarks or registered trademarks of duzine.com LLC in the United States and other countries. Other trademarks may appear and belong to their respective trademark owners.